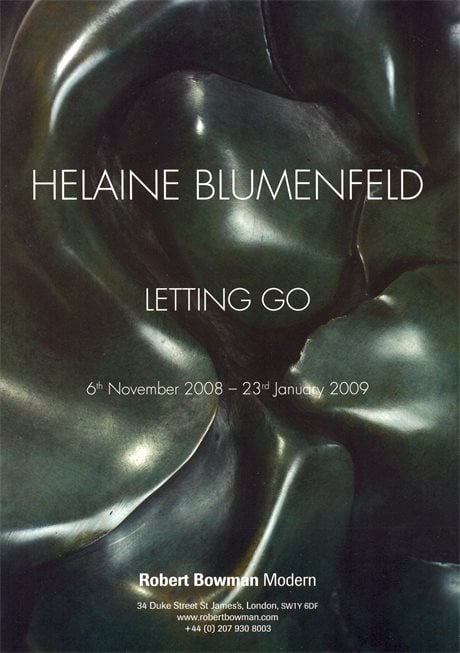 Photography by Julian Jans, Erio Forli
Commanding presences meet us in this exhibition of the work of Helaine Blumenfeld. The body, nature and emotional forces strike us immediately. The bloom of white marble and the more visceral forces revealed by bronze images need to be explored and even deciphered. We wonder how these tantalising and ambiguous sculptures came into being. The human body is apparent, but often we cannot quite 'find' it. Pleasure, pain, struggle and release are here as well, and we can find poise, balance and beauty.
Letting Go belongs to a recent series of complex and compelling statements. It is a breathtaking ride. From first glance, we sense rhythm and abandon: a naked Carmen-like dance. Surrounding the solid figurative presence, flowing 'fabrics' create rhythmic waves which can twist into almost terrifying knots, fissures and serpent-like presences. Danger and delight. The pure physicality of the figure never disappears and the liquid grace which reigns from one view turns into an almost threatening (yet triumphant) image from other standpoints.
Another work, Volare, like Letting Go, carries the weight and precarious balance of a triumphal ascent, with layers of tough but fragile petals creating a breathless spiritual equilibrium.
Serious revelations are laced into the fabric of these sculptures and can be both beheld and pursued.
Abridged from the introduction by Alan Caine
Purchase from:
Robert Bowman Ltd
34 Duke Street, St James's
London SW1Y 6DF
Tel: +44 (0)207 930 8003
Fax: +44 (0)207 839 3223
Email: [email protected]
01/10/2008
Published by Robert Bowman Modern
ISBN