Helaine Blumenfeld wins prestigious international sculpture prize
25/02/2007
Blumenfeld the first woman recipient in the award's history
The Anglo-American artist Helaine Blumenfeld is the recipient of the 16th edition of the International Prize "Pietrasanta e la Versilia nel Mondo" ("Pietrasanta and Versilia in the World") created by the Circolo Culturale Fratelli Rosselli. The prestigious award is assigned every year to an artist who, through their own creativity, promotes Pietrasanta, its artistic culture and its rich heritage of master craftsmen, in Italy and abroad. The traditional wooden work bench of the sculptor is not only the symbol of the prize, but also the emblem of an artistic reality which sees famous artists and artisans working side by side, and it is thanks to this happy union that Pietrasanta is known artistically worldwide.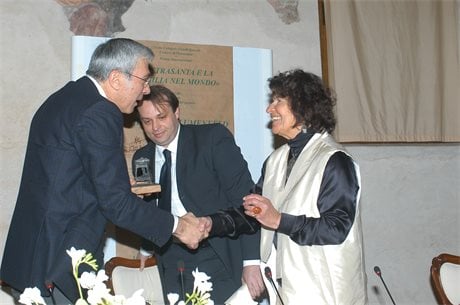 Helaine Blumenfeld is the first woman to receive this award. Since 1991, the previous sculptors who have received it are: Fernando Botero, Igor Mitoraj, Francesco Messina, Gio Pomodoro, Kan Yasuda, Novello Finotti, Junkyu Muto, Ivan Theimer, Bruno Lucchesi, Giuliano Vangi, Stanley Bleifield, Henry Marinsky, Pietro Cascella, Jean-Michel Folon and Romano Cosci.
The award ceremony took place on Sunday, the 25th of February, at 11am, in the S.Agostino cloister. Alessandro Tosi, the president of the Circolo Fratelli Rosselli together with the Mayor of Pietrasanta Massimo Mallegni, the City's cultural Councillor, Daniele Spina and Helaine Blumenfeld were in attendance.
"This prize affirms," said Daniele Spina, "the international importance of the artistic culture in Pietrasanta, which is easily evidenced by a glance over the list of the previously awarded artists. A city that fascinates and welcomes artists from all over the world, drawn initially by the technical skill of our precious artisans and by a constant creative exchange."
On occasion of the prize, Helaine Blumenfeld, in collaboration with the Circolo Fratelli Rosselli and the department of culture of Pietrasanta, will present in the "Sala Grasce" of the S.Agostino cloister a significant visual journey, open until the 10th of March 2007. On show will be ten sculptures, marbles and bronzes, and ten lithographs. Works in which the material vibrates with emotion. The creative spirit penetrates into the stone or the bronze as a gentle breeze that fluently moves surfaces and volumes, underlining thicknesses, plays of light, and delicate movements. Lightness, lucidity, and transcendence capture the senses moving one to reflection. "Art translates the mysteries of the human soul," explains the artist, "sculpture nourishes our spiritual identity."
The "Pietrasanta and Versilia in the world" prize is sponsored by Banca della Versilia e della Lunigiana and by DESAL.
Read more…
Interview, Pietrasanta Magazine