TEMPESTA unveiled at "The Lancasters"
04/05/2012
Blumenfeld Creates New London Landmark
The monumental sculpture Tempesta by Helaine Blumenfeld OBE was unveiled on Wednesday 2 May as the crowning glory for "The Lancasters" development overlooking Hyde Park.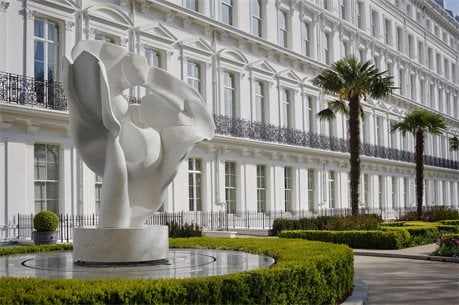 Blumenfeld was commissioned to make the landmark sculpture, which was set in front of the meticulously restored Grade II listed façade by developers Northacre and Minerva as the final element in the project. Helaine created the 4m high Carrara marble sculpture at Studio Sem in Pietrasanta, Tuscany
Klas Nilsson, Chairman for Northacre said: "Original art pieces are increasingly being seen in luxury property developments, but we wanted something really exceptional for The Lancasters. I am a great admirer of Helaine Blumenfeld's work; the sculpture will perfectly reflect the grandeur of the original architecture and set off the beautifully manicured front gardens at The Lancasters.