SHOWING IN OSLO
18/10/2010
9th to 24th October
HELAINE BLUMENFELD's impressive show which opened 9th October at the Town Hall of Norway's capital proved that despite a horde of unanticipated problems caused by the late arrival of 38 marble, bronze and Crystal Clear sculptures (weighing a total of more than 7 tons), a happy ending was possible with so much support. Friends who had come to enjoy the opening were quickly put to work.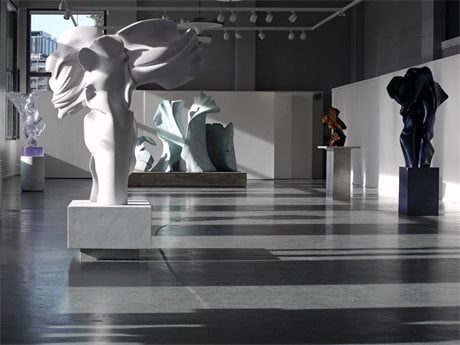 Just un-crating "Ascent," a four-meter-high bronze sculpture weighing a ton and a half, was a challenge in itself. It was housed in a gigantic wooden box, which in a developing country might quickly have been transferred into a family dwelling! Taking the screws out of this structure took two men a day and a half. Once "Ascent" was in place in front of the Town Hall Gallery, young skateboarders swiftly saw its raised bronze base as a place from which to navigate! More dramas with the Norwegian authorities followed.
For the art-loving citizens of Oslo, the show itself immediately proved a great attraction. They brought beautiful bouquets of flowers to express their admiration!
Ever since the opening, crowds have come into this vast public space to look at the sculptures and graphics. Some have been drawn in by the powerful form of "Ascent" dominating the entrance. All admired the enormous scope of the work and the complexity of the white marble forms. For the artist this strong affirmation of her work, and particularly the emotions shared by the viewers, have made all the prolonged efforts which such an exhibition entails, very much worthwhile.