Sculptor Helaine Blumenfeld OBE unveils largest piece to date at Canary Wharf
19/10/2016
Monumental work is latest piece in Canary Wharf Group's growing public art collection
Wednesday, 28th September, London: Canary Wharf Group has today unveiled its latest permanent work of art commissioned especially for the Estate's new district, created by contemporary sculptor Helaine Blumenfeld OBE.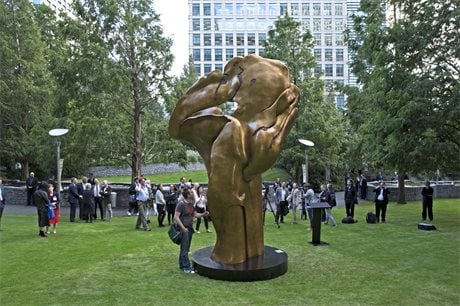 Fortuna, the impressive sculpture, is situated in the award-winning and tranquil Jubilee Park, designed by international landscape architect, Jacques Wirtz. At five metres high, Fortuna, is Blumenfeld's most ambitious work to date in a career that spans over 50 years. The work in patinated bronze is inspired by the eponymous Roman goddess of destiny and evokes the fullness and complexity of the human condition.
Since the inception of Canary Wharf's cultural masterplan, visual arts has played an important role in the development and success of the 128-acre Estate. Canary Wharf has one of the UK's largest collections of public art, with more than 65 permanent works by over 50 world-renowned artists and craftsmen. Blumenfeld's sculpture joins Canary Wharf's already impressive portfolio of art, which includes works from internationally acclaimed artists such as Lynn Chadwick CBE RA, Igor Mitoraj, Hugh Chapman, Andrew Burton, Giles Penny, Bruce McLean, John Buck, Charles Hadcock, Wendy Ramshaw CBE, William Turnbull, Michael Lyons and many more.
In tandem with its permanent art collection, Canary Wharf also boasts a year-round arts and events programme with over 200 events each year including the annual Winter Lights Festival and temporary exhibition programme.
Best known for her large-scale outdoor commissions, Blumenfeld is passionate about bringing sculpture into public spaces. Her most notable works can be found in London, including Tempesta overlooking Hyde Park, as well as the recently unveiled bronze Meridiana in Holland Park.
Sir George Iacobescu, Chairman and Chief Executive Officer, Canary Wharf Group, comments: "We're immensely proud to be unveiling this extraordinary piece from Helaine Blumenfeld in Jubilee Park and adding it to our ever-expanding collection of public art. There's a real synergy between our vision to make Canary Wharf a lifestyle destination for everyone to enjoy and Blumenfeld's passion for making art accessible to the general public."
Helaine Blumenfeld on Fortuna comments: "I am honoured to have been invited to create a sculpture for Canary Wharf. My aim has been not only to enhance the environment, but also to connect and ultimately inspire all those who will be living, working or just passing by. Like the Roman goddess who shares the same name, Fortuna is an expression of the fullness and complexity of the human condition with all its turbulence, commitment, fragility, hope, inner strength, joy, dependency and continuity. I hope that in Fortuna, viewers will find a revelation of the many facets of life, and above all, the positive power of beauty and the sense of possibility it offers us."
Her commission for the Canary Wharf Group coincides with a major exhibition of her new work at the Hignell Gallery in Mayfair, which presents a personal portrait of Blumenfeld's career. Entitled Hard Beauty, the collection will be on view between 21 September and 27 November 2016.