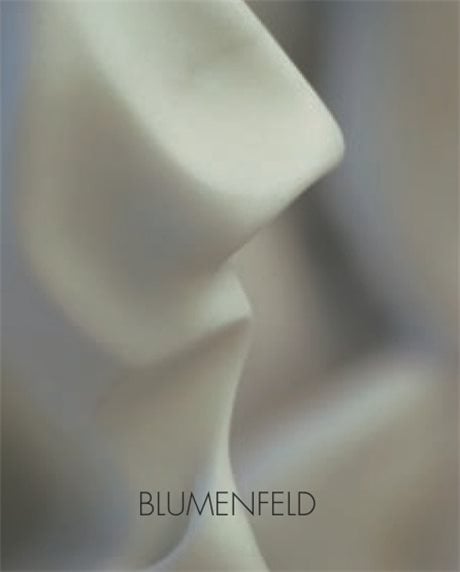 Photography by Julian Jans
While the book's first two sections – 'Introduction' and 'The Sculptural Process' – initiate the reader into the conceptual and technical aspects of Blumenfeld's practice, the three remaining parts – 'Selected Sculpture 1964-2006', 'Sculpture in Major Collections' and 'Recent Sculpture' – constitute a representative catalogue of her sculptures arranged both as a chronological survey and in terms of the major collections of which they form a part.
Arts writer Karen Wright's opening critical introduction identifies defining themes and influences, invoking comparisons with the work of Boccioni, Brancusi, Arp, Hepworthy and Moore, as well as situating Blumenfeld's oeuvre in relation to the feminist concerns common to author and sculptor.
Supported by a photographic documentary and the artist's insightful commentary, the second section gives the reader access to the technical processes critical to Blumenfeld's practice. Immersed in the artistic culture of Pietrasanta, the location of the artist's studio since the 1970s, we encounter the sites and people involved in the creation of a Blumenfeld sculpture. From the plaster model workshop to the bronze foundry and marble studio, we perceive the centrality of craft to the artist's work and appreciate the risks which her experimental approach to form entails.
In the chapter covering the 1964-2006 period, sculptures are presented in the order in which they were conceived by the artist, large-scale commissioned works appearing alongside their smaller scale models. In addition, Blumenfeld's notes on particular sculptures highlight the breakthrough pieces and major turning points. From single figures to groups, movable sculptures to complex but succinct configurations in which movement is contained within a single unit, this section illustrates the dramatic transformations which Blumenfeld's sculpture has undergone.
The fourth section presents Blumenfeld's sculptures in the context of their private and public settings. The artist's works – fountains, table-top sculptures, monumental bronze and marble figures, reliefs, sculptural landscapes-within-landscapes – are encountered in gardens, houses, museums, sculpture parks and plazas throughout Europe and North America. The collections, arranged in chronological order, testify to the enduring appeal and fascination which the artist's work holds for those who own it.
The final section illustrates a single theme: Letting Go. These recent pieces generate an effective visual metaphor for emotional and intellectual release. They move in defiance of gravity. Alan Caine's introduction to this section explains the commanding nature of Blumenfeld's recent sculpture in terms of its formal complexity and variety of associations.
Purchase from:
Robert Bowman Ltd
34 Duke Street, St James's
London SW1Y 6DF
Tel: +44 (0)207 930 8003
Fax: +44 (0)207 839 3223
Email: [email protected]
or:
Amazon
01/10/2008
Published by Robert Bowman Modern
ISBN
978-0-9561204-0-3