Jonathan Evens talks to Helaine Blumenfeld about her sculptures
TO HAVE a major exhibition open shortly before lockdown would surely be viewed by many as a major disappointment. Yet Helaine Blumenfeld has taken it in her stride.
First, she says it felt like a miracle to get it done, particularly as the new work was coming from Italy around the time when borders were beginning to be closed. Then, there were ten days in which people could see it before lockdown — people who have subsequently sent emails saying that the work has given them comfort or hope. On the opening day of the exhibition, she says, "I saw people pausing and reflecting on the work and the world." That is what she had hoped for, as she believes that if we are able to approach a work of art open to its effect, then we can have a revelation.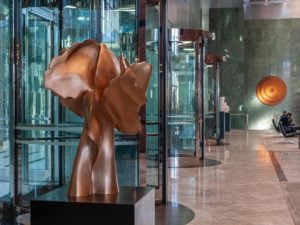 It is also, she believes, a very timely show. Over the past months, she has "felt increasingly concerned that society was moving towards a precipice caused by isolation, lack of empathy, the breakdown in trust, and absence of leadership". She had originally planned to call the show "Towards the Precipice". The exhibition is both warning and antidote, with works depicting broken edges reflecting the precipice but with other works showing connection and relationship. That is how we can come out of this, she believes: through community, spiritual values, and acknowledgement that we are all human. In doing so, we will have to learn look at the world in a different way; by looking up to see a spiritual dimension and also by acknowledging the crisis of our climate.
The title that was actually chosen for the show, "Looking Up", relates to many of the works included, as Blumenfeld's work is ultimately about "aspiration, reaching upwards and overcoming difficult moments". She likes to "encourage people to focus their perspective beyond their immediate circumstances toward other possibilities and growth", as with her "Tree of Life" series. Ascent continues this theme, being a piece depicting one figure rooted to reality but helping another to fly. Helping others, we ourselves are given a lift. Similarly, Illusion is an image of three abstracted figures supporting one another in the challenging times in which we live.
Fortuna, her 2016 commission for Canary Wharf, was temporarily located at Jubilee Park while the planned site for the work was still under construction. Users of Jubilee Park, however, quickly began to identify the space by the sculpture as a location for meeting one another or for sharing picnics. Public art became part of daily life, and Jubilee Park, now the location for many of the outdoor works in this exhibition, became the permanent location for Fortuna.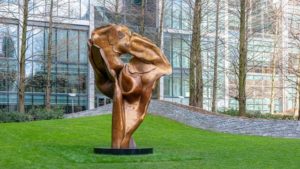 This experience showed Blumenfeld how people can quickly change their daily routine through public art, loving it and touching it. It was overwhelming for her to see how it quickly became their sculpture. Before lockdown, those who live or work in the area gathered, as individuals and in groups, around her sculptures, going on to the bases and inside to hold, touch, and feel supported. People were, she believes, giving themselves over to the works, going around and inside to see relationships between the figures and the spaces. Often, she thinks, we don't stop in our daily lives to do this. It is why we need art in public spaces to give people that experience of relationship and revelation in daily life.
At One Canada Square, the organic flowing curves of the sculptures contrast with the strict lines and clean angles of the building. Here, Blumenfeld's art mediates between the impenetrability of geometric buildings and the people who use them, bringing a sense of belonging despite the vastness of such buildings. Through an early commission in Milwaukee, she says, she decided to work on a scale to which people could relate — intimate pieces — in contrast to the huge sculptures that had previously been commissioned for that city.
She says that the exhibition will be at Canary Wharf for quite a long time — longer than the period in which the lockdown is likely to be required — and a complementary exhibition at the Hignell Gallery, "Intimacy", will also then open. In the mean time, the Canary Wharf exhibition can be viewed online at the Hignell Gallery's website. Even if the numbers seeing this show are greatly reduced from the 250,000 who ordinarily work at Canary Wharf, Blumenfeld thinks that it will have been worth while if those who do see it gain a renewed sense of humanity through the work. If that is so, she will have been mirroring Ascent and gained a personal lift by assisting others to fly.
"Looking Up: Helaine Blumenfeld at Canary Wharf" is at One Canada Square and throughout Canary Wharf, London E14. hignellgallery.com