Following the success of Fortuna in Canary Wharf's Jubilee Park, artist Helaine Blumenfeld OBE returns to the financial hub for her largest solo exhibition to date.
In a museum in Naples, Helaine Blumenfeld had an epiphany. For years she'd felt the urge to create, but struggled to find an appropriate medium with which to do so. For her, words seemed the natural tool, but, halfway through studying a PHD in philosophy, she was yet to find the creative awakening she'd been searching for.
"I just didn't have enough words to create these visions and dreams, which were extraordinary, into something to communicate with," she says. "And then, suddenly, I saw these small terracotta figures from the Greek archaic period, which were full of gesture and expression. And then, in another cabinet, Cycladic pieces from 4,000 BC, which are simple and reductive. With each of them I thought 'that's the language'."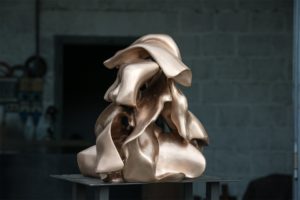 Helaine Blumenfeld, Exodus Metamorphosis, 2016
She finished her PHD at the encouragement of her husband, the writer Yorick Blumenfeld, but her path was set. Today, in her home in Grantchester, a village just outside of Cambridge, some of Blumenfeld's sculptures are perched on plinths amongst South African and African works, collected from a lifetime of travels. She's in her 70s now, and, more than 50 years since her artistic enlightenment, has created more than 90 large-scale sculptures, and several smaller works, for private and public collections around the world.
Her creations are abstractions of the human form, striking, undulating shapes that encapsulate emotion, movement and spirituality in tactile marble, bronze and terracotta. You may have seen them at Clare College in Cambridge, at the Smithsonian Institution in her native America, opposite Hyde Park at The Lancasters, or amongst the alfresco diners in Canary Wharf's Jubilee Park. She has exhibited alongside Henry Moore, served as vice-president of the Royal Society of Sculptors for six years (her tenure ended in 2009), and was given a nod from HM The Queen in 2011 when she was awarded an OBE.
Born in Queens, New York City in 1942, Blumenfeld grew up in the Jamaica Estates, a neighbourhood perhaps most famous today as the birthplace of Donald Trump. She met her husband in a bookshop while studying the aforementioned PHD at Columbia University and they married when she was 20, moving to Paris and eventually Cambridge, where they had two sons.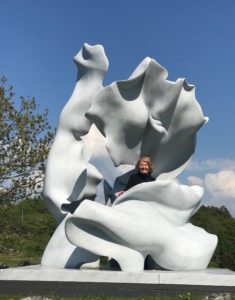 Helaine Blumenfeld with Taking Risks, 2019, photography ©Henryk Hetflaisz
The family home, an 18th-century house bought from King's College in 1970, is tucked behind a charmingly untamed garden that blooms under the watchful eye of a central cedar tree. At the back is Blumenfeld's studio, a former coal house with a natural light at odds with the rest of the property. The fruits of her labour are scattered out on the central work surface — miniature, twisting figures that hint at the sculptures to come. Her latest is hidden beneath a Sainsbury's carrier bag, a makeshift cover to protect her work-in-progress from drying out.
"The clay is built up very gradually, and it can go any way I want it to; I have no preconceived idea of where I'm going when I start working," she says, her soft, American lilt still intact despite her years in the UK. "I do hundreds of models and reject most of them. I just wait until I get a group of work done and then it's easy; you see it. And then sometimes…" She trails off, lifting the carrier bag and turning her current project towards the light. "This is going to work," she says, more to herself it seems than to me. "I see what I have to do."
When it's ready, she will take it to Pietrasanta, a town in northern Tuscany that is considered something of a mecca for sculptors. It is here her visions truly come to life, transformed into large-scale forms cast in bronze, or carved from Carrera marble, terracotta or cedarwood from her very own tree.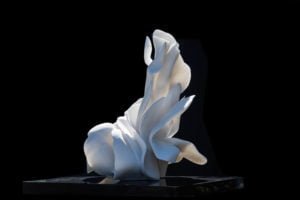 Helaine Blumenfeld, Exodus III, 2018
She first visited Pietrasanta in 1975 when her children were young, at the time one of the first women who wanted to learn how to carve. Her apprenticeships with "really old men who weren't going to live long" proved invaluable.
"It was probably very good," she says, when I ask how she found working in such a male-orientated environment. "If I were to go to Pietrasanta today, I wouldn't ever get the education, discipline and training that I did, because there was no respect for women, and the only way to get respect in a very male-dominated society was to work and follow the same discipline. It was extremely trying some of the time, and tiring."
It became her second home, and she would go for weeks on end to sculpt in her Italian studio. "I was very influenced by something Virginia Woolf was asked, which was why there had been no great women artists," Blumenfeld explains. "She said the one thing an artist needs to really work freely and creatively is complete lack of distraction; being in a state, she said, was candescent. I felt that enormously; I could never escape all the thoughts that were going on, and I think being away and being in the studio, sometimes not talking to anyone for days, was very releasing.
"What it also meant was that my family didn't come, and that was very painful," she continues. "It was a decision I made and regretted at some points later, because I think certainly my younger son felt very abandoned. It was hard on everybody."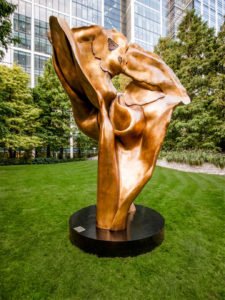 Helaine Blumenfeld, Fortuna, 2016, photography ©Henryk Hetflaisz
Her decision was as much about gaining respect among her colleagues in Pietrasanta as it was about focus. "When I was establishing this kind of persona," she says, "which was quite a tough character, I thought all they have to do is see me with my kids and suddenly that will evaporate."
In her own sacrifices, Blumenfeld paved the way for female sculptors of the future. Even when she won the prestigious International Sculpture Prize: Pietrasanta and Versilia in the World in 2007, the first woman in the award's history to do so, she "campaigned not to be just a token. It took five years to get another one, and I was very active in making sure that happened".
Having deliberately kept a low profile for most of her career, Blumenfeld decided that in order to have a legacy, she "had to have a name". Around 15 years ago she began working with a gallery for the first time, and so followed major exhibitions, a Sky Arts documentary, Hard Beauty, and a series of public commissions.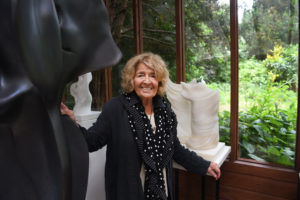 Helaine Blumenfeld in the studio, photography ©Anne Purkiss
One of these was unveiled in Canary Wharf four years ago; Fortuna, named after and inspired by the Roman goddess of luck, sits in the heart of Jubilee Park. It was originally created for Wood Wharf (a new district due to complete in 2023) and put in Jubilee Park temporarily, but its reception was so positive that Blumenfeld has had to make a second sculpture for the new space (Metamorphosis is on view now).
It's the success of Fortuna, along with recent exhibitions in the grounds of Salisbury and Ely cathedrals, that inspired Blumenfeld's next project: a solo exhibition in Canary Wharf.
"I've never really seen a museum as a place to look at sculpture; it's too sterile in a way," the artist tells me. "Canary Wharf is the largest hub there is, practically, with all the parks and outdoor areas; it could be a sculpture park. But I wanted to do more than that. I wanted to stop people looking down at their phones and their feeds, and not only see the sculptures that are around them but see the world that's there, the nature, the possibility, and the spirituality. That's why the exhibition is called Looking Up."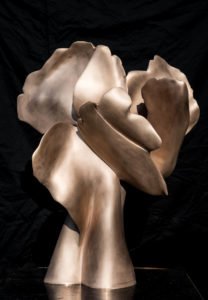 Helaine Blumenfeld, Tree of Life Encounter, 2018
Featuring more than 25 sculptures, Looking Up will focus on Blumenfeld's signature materials: Carrara marble, terracotta, cedarwood and bronze. Spanning some 46 years, the show will include pieces dating from the 1970s to the present day, with seven new sculptures created especially for Canary Wharf.
A second exhibition at Mayfair's Hignell Gallery will open in April, to run in tandem with the Canary Wharf show. At both, Blumenfeld will encourage audience interaction. Some larger-scale pieces will be big enough to walk in-between and, unlike with most artworks, touching will be encouraged.
"At almost every show I ask for a sign to say "please touch", because we don't touch," she says. "We live in a society where we're tapping, and now with #MeToo we're too afraid to touch people. We learn so much from touch, even as little children your first memory is touching your mother or having her touch you."
Helaine Blumenfeld, Illusion, 2018, Installation at Ely Cathedral, photography ©Henryk Hetflaisz
She tells me a story about one of her first shows in New York, which was visited by a group of people from the charity Lighthouse for the Blind. "These people who couldn't see — wow, what they had developed," she says. "They came in with no expectation, and were touching – and each one at the end said what they thought, and it was not only so close to what I was saying, it was as though I had been coaching them. It was after that I decided you have to touch."
As my studio tour comes to a close, she pauses to show me a final sculpture, her first attempt at drapery from her early days in Pietrasanta. It's white marble made to look like sheets of fabric, layered over the top of one another. It is admittedly, even to my own untrained eye, not her best work, and she laughs as she shows it to me. "It was a failure, but I like to see it; it's encouraging" she smiles. "It's a reminder that you can get better."
Looking Up: Helaine Blumenfeld at Canary Wharf, 16 March — 26 June, One Canada Square and throughout Canary Wharf, E14