For the art lover frustrated by the closure of galleries and museums during these fraught virus-infected times, there exists some possible respite with a new socially distancing-friendly exhibition by that maestro of public sculpture, Helaine Blumenfeld.
Her largest solo exhibition to date, Looking Up, is spread around London's Canary Wharf area stretching from Westferry Circus to the north, through Cabot Square, Jubilee Park to Wood Wharf in the south. In addition to these 10 large-scale outdoor works are some 25 sculptures on view within the spacious lobby of One Canada Square.
This is the culmination of decades of work that has seen nearly 100 Blumenfeld commissions placed in public places around the world. Here in the UK, people will know her work that stands outside the cathedrals of Salisbury and Ely, overlooking Hyde Park, and in Clare College Cambridge to name just a few.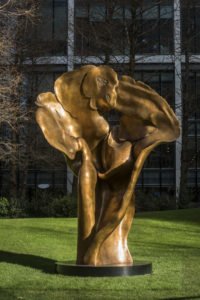 People who live and work in Canary Wharf will already be acquainted with Fortuna, a bronze work with a glowing golden patina that is many ways typical of the sculptural language that some have dubbed the Genre Blumenfeld. It was installed in Jubilee Park in 2016 and, with a mix of the figurative and abstraction, bears a tree-like form with branches opening out in a spirit of optimism evoking Fortuna the Roman Goddess of fortune.
Born in America in 1942, Blumenfeld has lived in the UK since the late 1960s. She began working in wood, subsequently moving to bronze. A trip to Pietrasanta in Tuscany proved a significant turning point in her career. The town lies near the famous Carrara marble quarries and here she learnt the art of carving with the same stone used since Roman times and with which Michaelangelo sculpted his famous statue of David.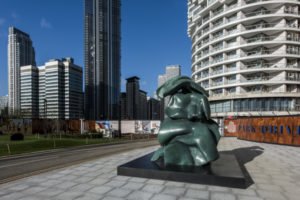 Blumenfeld has studios in Pietrasanta as well as in her home at Grantchester near Cambridge. In fact, this show proved particularly challenging to mount since her Italian support team was unable to accompany her because of the lockdown the Coronavirus has caused in Italy. Blumenfeld's use of a wide-range of materials is evident here. There are marble works, plenty of bronze, cedar wood and terracotta.
Metamorphosis, above, is a work which will become a permanent feature even after the exhibition closes in June. With its blue-green patina, it has a wonderful elasticity to it, a work of many layers and shifting perspectives.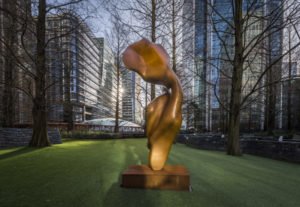 Flight, above has a poise and a balance that seems to defy gravity. It has that upward movement that characterises the whole exhibition coupled with a real energetic quality. One of the pieces housed in One Canada Square lobby is entitled Toward the Precipice. The title springs from Blumenfeld's conviction that technology has made our society more impersonal. Rather than providing us with a sense of empathy, we have become more isolated in our digital world. She believes we are in danger of sliding complacently towards a precipice.
"Have we gone too far for people to help each other?", she asks when I spoke to her at her home a few days ago. "Are we too self-involved? Are we too concerned with commercial well-being? Are we too spoilt or can we empathise? Can government instead of engaging with surveilling, are they really able to know what's needed? Do we have that kind of network? There seems to me to be a total lack of global co-operation and we have to see within a country if there's co-operation. I see in America people are buying guns and ammunition because they are afraid of civil unrest. Then the precipice has been reached. And I feel we are rushing towards that."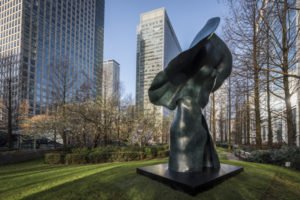 So Looking Up is in a way a kind of antidote to a world in which she feels real communication is disappearing. Not only are you looking up in a physical sense at these towering sculptures, but you are looking up to beyond the everyday for the kind of spiritual uplift that beautiful works of art can bring, a way of recharging the soul and regaining our sense of self and of unity. And don't we just need that at this anxious time.
Looking Up is due to show until 26 June 2020. All images are courtesy of the artist and the photographs are by Sean Pollock.