Read the original article on Widewalls
Intimacy and relationships are topics commonly explored in art throughout history, in various media, materials, and styles. The nuances of human interactions have been examined, dissected, and shown for all they entail, with tensions, conflicts, but also solidarity and empathy.
The prolific sculptor with a career of over 50 years, Helaine Blumenfeld, arrives at Hignell Gallery with her delicate yet imposing works that explore intimacy, connectivity, and isolation. Working with various materials, Blumenfeld manages to capture current states of being connected and intimate but also isolated and alone with a superb mastery over forms and materials.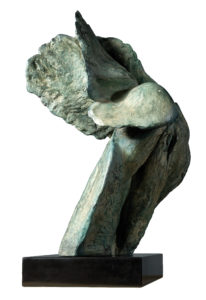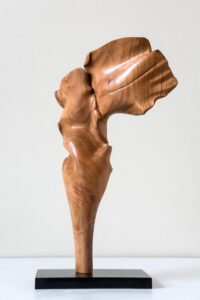 Helaine Blumenfeld's Practice
The exhibition traces the evolution of Helaine Blumenfeld's practice from works inspired by personal life to broader explorations of the wider world. It brings to view the artist's maquettes and sculptures, including some never before seen and newly created pieces in marble, bronze, wood, and terracotta.
Intimacy and isolation are explored through notions of dependence and independence, closeness, and introspection. Works include Shadow Figures (2012), Intimacy and Isolation (2018) in both bronze and marble, as well as Exodus V (2019) made in bronze. The sculptures go beyond the exploration of personal relationships to broader frames of relationships between societies and communities.
On view are also Blumenfeld's maquettes for large-scale works such as Taking Risks (2020), which monumental version is currently displayed at Canary Wharf as part of an outdoor exhibition.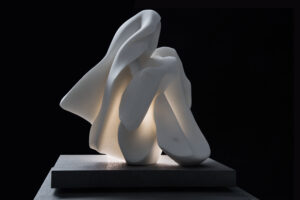 An Emotional Evolution
"Although society through technology appears to be increasingly connected, intimacy is lacking on a global level," explains Blumenfeld, "we need to have a profound knowledge of each other and an increased sense of community."
A fundamental theme of Blumenfeld's practice, intimacy has been a driving force behind her aesthetic, from her earliest sculptures to the present day. The exhibition follows her artistic development from the engagement with intimacy on a personal level, as a knowledge of oneself, to the understanding of others. Intimacy is not a static feeling for Blumenfeld but an active one, full of tensions and potential for growth.
In her most recent works, the artist comments on the global lack of intimacy and interconnectivity in spite of all technological advances that promise better connectedness and new forms of sociality. Her works, such as  Intimacy and Isolation II (2020) in bronze and Intimacy: On The Edge (2019) in marble, explore the issue of what it means to be connected and art's role in creating spaces of interaction and empathy.
"We need to be able to empathise with one another in order to connect on a human scale. Engaging with art can help us to do this."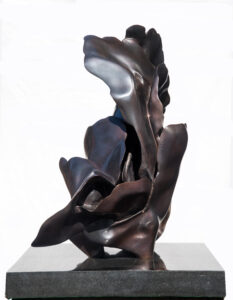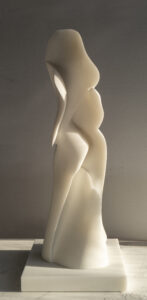 Intimacy and Isolation at Hignell Gallery
Helaine Blumenfeld OBE is considered one of the leading contemporary sculptors in the UK. She has created more than 90 large-scale sculptures for private collections and public spaces worldwide and was awarded an honorary OBE for services to the arts.
The exhibition Intimacy and Isolation will be on view at the Hignell Gallery in London from April 26th, 2022.
Photographs by Erio Forli