Monumental bronze sculpture FLIGHT unveiled at University of Leicester
11/02/2014
Unveiled at the David Wilson Library, 7 February 2014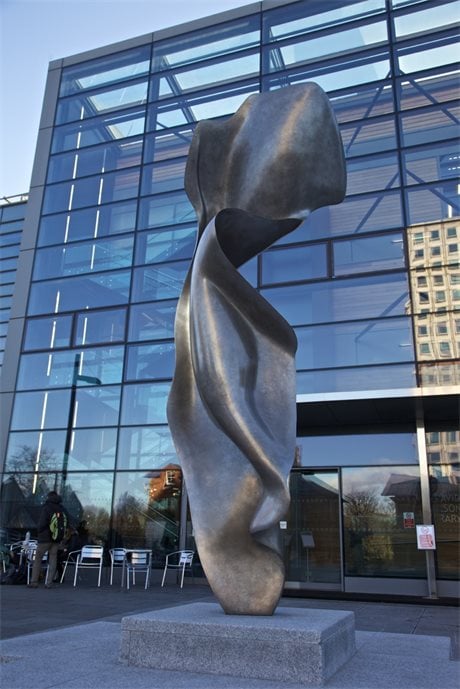 FLIGHT is a major bronze work by sculptor Helaine Blumenfeld OBE, one of Britain's leading contemporary sculptors working in marble and bronze.
It has been installed at the entrance to the University's David Wilson Library – and is intended to symbolise the legacy of the University's Vice-Chancellor, Professor Sir Robert Burgess who retires in September after 15 years' distinguished service as the longest serving Vice-Chancellor in the University's history.
Professor Burgess said: "The University of Leicester is delighted with Helaine Blumenfeld's sculpture Flight as an addition to its collection. It symbolises aspiration, energy and enthusiasm. It is at the heart of the University and will give pleasure to many people visiting the University's David Wilson Library."
Dr Blumenfeld has been a close friend to the University. In 1990, the University commissioned SOULS, a two-part, 3.3m high bronze sculpture – which was prominently sited on the lawn in front of the Fielding Johnson Building.
In 2002, the University awarded her an honorary Doctor of Letters – and in the same year, Professor Sir Robert Burgess and Dr Blumenfeld introduced the first Sculpture in the Garden show.
In 2008, a bronze sculpture by Dr Blumenfeld called SHADOW FIGURES: DIALOGUE was donated by the University's benefactor and Distinguished Honorary Fellow, Dr Frank May and his wife Katherine. The sculpture is displayed on the ground floor of the new David Wilson Library.
Dr Blumenfeld said: "With FLIGHT I wanted to simplify the human form to its absolute essence and to create a sense of the merging of physical and spiritual presence.
"FLIGHT is about reaching upwards, about aspiration, about the existence of a higher realm of being. I am very pleased to have FLIGHT standing at the entrance to the David Wilson Library.
"It seems not only a beacon welcoming one into the library, but more important, a symbol of the spirit that has energized the University of Leicester particularly in the years that Professor Sir Robert Burgess has been Vice-Chancellor."