Helaine Blumenfeld OBE at Robert Bowman Modern
10/05/2012
10 May – 31 July 2012
The Robert Bowman Modern gallery is delighted to announce a selling exhibition of recent work by Helaine Blumenfeld OBE, which opened 10th May at 34 Duke Street James's, and will continue until July 31st 2012. The exhibition at Robert Bowman Modern features four bronze and nine marble works, including the maquette for Tempesta, the monumental marble commissioned by luxury development The Lancasters in Hyde Park.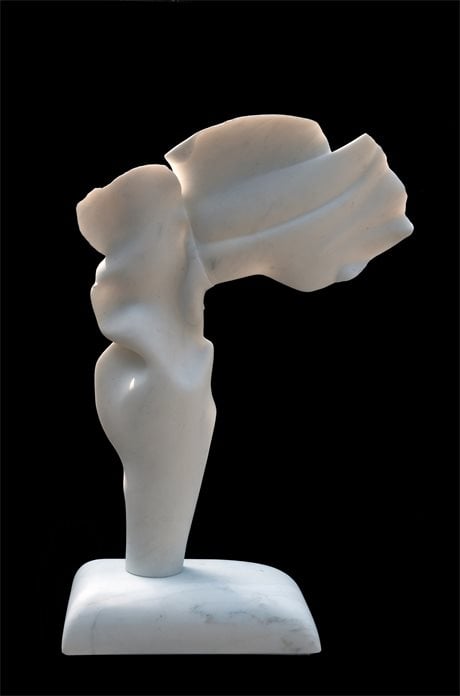 Following her highly successful 2008 show 'Letting Go' at Robert Bowman Modern, Blumenfeld was described by the Financial Times as 'The Henry Moore of the future.' Over the course of the next two years, Blumenfeld experienced a personal breakthrough, in which she realised that her search for a visionary language, which bypasses cultural specificities and expresses varied emotional states using purely sculptural means was becoming an actuality.
Included in the current show is Angel I, a marble piece which stands at over a metre tall and bears Blumenfeld's trademark folded, smooth textures, jagged and soft edges and subtle interplay of solids and voids. The use of light as an extra 'medium' around the tapered edges of the wings and planes shows ever more assurance, confidence and an extraordinary technical ability.
Also included in the exhibition is 'Messenger of the Spirit', 2011.
Standing at just under a metre and half tall, the bronze work maintains the strength and originality of Blumenfeld's vision at this larger, monumental scale.
Typical of the body of work within the show, it communicates on a number of different levels, visual and imaginative, tactile and emotional, but underlying everything is an insistence on growth and development.
In a period marked by personal breakthrough and inspiration, it can be no coincidence that 2011 and 2012 have been extraordinary years for the sculptor.
In 2011 Blumenfeld was awarded an honourary OBE by Jeremy Hunt MP, Secretary of State for Culture, who presented the award said 'It acknowledges your remarkable contribution to the arts as one of the boldest and most diverse artists working today. Your pioneering approach has placed you at the forefront of contemporary sculpture.'
Invited by the City of Pietrasanta in recognition of her exceptional talents as a sculptor, Blumenfeld was honoured with a solo exhibition in October of last year in the Piazza del Duomo which also included more than fifty sculptures inside the Chiesa di S.Agostino. An NBC programme devoted to Helaine and her work was aired on 20 February 2012, and the Fitzwilliam Museum, Cambridge are currently exhibiting Blumenfeld's monumental work in their sculpture promenade, while landmark residential property development The Lancasters unveils her exceptional commission, the monumental marble Tempesta, on 2nd May.
The ethos behind Robert Bowman Modern at 34 Duke Street is to show exciting contemporary sculpture using traditional media. Helaine Blumenfeld represents the embodiment of this ethos. The exhibition is an opportunity to view new work by this acclaimed sculptor.