Helaine Blumenfeld in Pietrasanta
05/08/2011
3 September – 16 October 2011
A breathtakingly beautiful celebration of Helaine Blumenfeld's work took place in Pietrasanta, Italy, in September and October 2011.
Five monumental marble and bronze sculptures in the Piazza, over forty smaller pieces and an impressive installation in the town's Chiesa attracted a record number of viewers.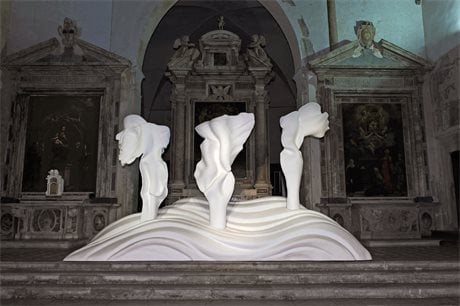 Invited by the Mayor, Dr. Domenico Lombardi and the City of Pietrasanta in recognition of her exceptional talents as a sculptor, Helaine Blumenfeld has five monumental marble and bronze sculptures – each one over ten feet in height – in the Piazza del Duomo.
Blumenfeld created for this exhibition a haunting installation, Visionary Landscape that is placed in front of the altar of the Chiesa di S.Agostino.
Dr.Valentina Fogher is curating the exhibition, which also includes more than fifty sculptures inside the church. She regards the exhibition not just as a retrospective, but as an exploration of the mysterious spirit of creation that imbues Blumenfeld's work.
A former vice-president of the Royal British Society of Sculptors, Blumenfeld has just been awarded an Honorary OBE.
Blumenfeld is one of the more than 300 artists who have made Pietrasanta their place of inspiration. What distinguishes her is the startling distance she has traveled with her thematic concerns in the four decades that she has worked there. Critics have written that Helaine has developed a vocabulary which lives up to and often transcends the complexity of each idea incorporated in her sculptures.
This is not the first time Blumenfeld has been honoured by Pietrasanta. In 2007 she became the first and only woman to receive the prestigious international sculpture prize, Pietrasanta e la Versilia del Mondo. This had been previously awarded, among others, to Fernando Botero, Igor Mitoraj, Gio Pomodoro, Kan Yasuda, and Marc Quinn.
Pietrasanta with its unique resources of materials, studios, foundries, and skilled craftsmen is today recognized as a global home of sculpture. Its ethos of vitality, quality and passion informs Blumenfeld's sculpture as much as the marble from nearby quarries. The celebration of her work is therefore also a tribute to this remarkable city.
Read more… Helaine Blumenfeld in Pietrasanta
A celebration of Helaine Blumenfeld's spiritual marble and bronze sculptures at Italy's Pietrasanta