Blumenfeld is the invited artist at the 2010 Cambridge Art Fair
24/06/2010
The organisers of the 2010 Cambridge Art Fair, which is taking place at Chilford Hall Vineyard & Conference Centre from 25-27 June, are delighted to announce the inclusion of a sculpture by Helaine Blumenfeld, care of the Robert Bowman Modern Gallery in London. Flight, a stunning polished bronze figure standing almost 1m high, is the headline exhibit at the fourth edition of the annual fair, now firmly established as the region's most prestigious visual arts event.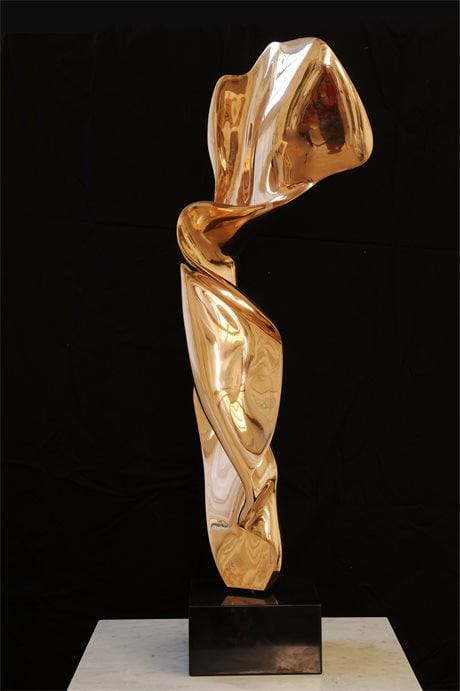 This is the first time that Blumenfeld will be showing a sculpture at the fair, although she has visited previous editions of the event. As local publication Business Weekly rightly predicted in its 29 April-6 May edition, "this welcome addition to the Cambridge Art Fair is sure to attract a lot of interest, and signifies the continued elevation in stature and reputation of the event."
Blumenfeld's work, while internationally acclaimed, will be especially familiar to Cambridge audiences from her numerous commissions in and around the city centre, including the two-part granite sculpture Unity (1991) on the corner of Hills Road and Brooklands Avenue, the white marble Shadow Figures (1990) at Vision Park in Histon and the monumental patinated bronze figure Flame (2004) marking the entrance to Clare Hall college.
Flight, which will be exhibited in the main reception area at Chilford Hall Vineyard, is one of an edition of 3 bronze sculptures. The present piece, which was cast in 2009, has been given a polished finish, the resultant luminosity only enhancing the ethereal qualities of its form, which appears compelled to move in response to some powerful internal or external force. Its creator, who has always acknowledged the influence of the Italian Futurists on her work for their preoccupation with representing movement, regards this sculpture as an expression of "emotional motion: how you get from A to B within yourself, how the energy of your emotion carries you somewhere else."
On display near the sculpture will be two limited edition lithographs by Blumenfeld especially printed for the Cambridge Art Fair by the renowned Curwen Studio. Tango, which has been printed in two separate editions of 15 based on two different palettes, one red and one green, will be available to purchase from the Curwen Studio stand (B3) in the Pavilion. Each print measures 63.5 x 49.5 cm and will be sold for £375 unframed or £435 framed.
The Cambridge Art Fair is open from Friday 25 June to Saturday 26 June, 11am to 6pm; and Sunday 27 June, 11am to 5pm.

For more information about the sculpture please contact the Robert Bowman Modern Gallery at:

Robert Bowman Ltd
34 Duke Street, St James's
London SW1Y 6DF
UK

Tel: +44 (0)207 930 8003
Fax: +44 (0)207 839 3223
Email: [email protected]
Web: www.robertbowman.com