BLUMENFELD IN THE OSLO TOWN HALL
26/08/2010
with Anfinsen Kunst
9 – 24 October 2010
Helaine Blumenfeld, an internationally acclaimed sculptor, believes in the importance of art to inspire a spiritual awakening in society. There could be no greater recognition of this than the decision by the Oslo Commune, in collaboration with Anfinsen Kunst, to host an extensive exhibition of a single artist in the Town Hall, one of Norway's most prestigious public venues for art. Such was their acknowledgement of Blumenfeld's stature that for the first time ever, they have allowed a monumental sculpture to be exhibited outside the entrance to the Gallery overlooking the harbour.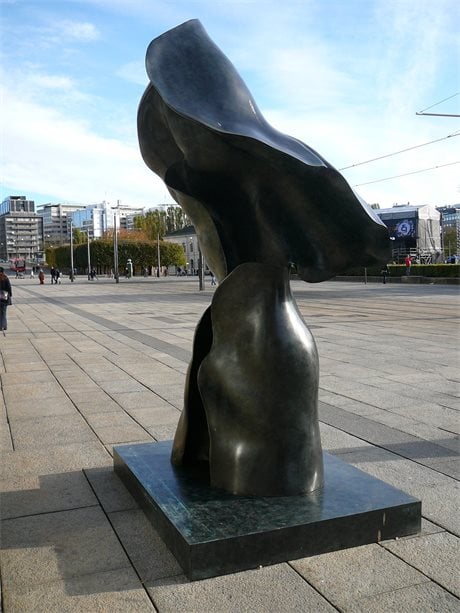 Ascent, one of her most iconic pieces, will provide a dramatic introduction to Blumenfeld in the Oslo Town Hall. The commanding interiors of the East and West galleries offer a suitably impressive venue for over 30 major sculptures that extend from the uplifting Souls of 1990 to several pieces carved for the show. These, along with the accompanying graphics, reflect the most important recent developments in the artist's oeuvre.
Since her first Norwegian show in 1984 at Galleri Kampen, the work of the New York born sculptor has been exhibited at Galleri Roenland and Anfinsen Kunst. The Town Hall show in Oslo will be the first time that Blumenfeld's work will be shown in a public gallery in Norway.
For Erik Anfinsen, the director of Anfinsen Kunst, which is responsible for organizing this unique presentation, the Commune's decision did not come as a surprise:
"I have always wanted to show one of my artists in the Oslo Town Hall. It is such a beautiful space; light, airy and, equally important, as central and prestigious as possible in our capital city. But the opportunity had never really arisen until now. The Commune understood the importance of Blumenfeld's profile and, of course, the unquestionable quality of her work. I am delighted that we could mount an exhibition of this scale for Helaine, and that the Commune has allowed us to install one of her largest sculptures, Ascent, outside. It makes such a powerful statement – for Oslo as well as for Blumenfeld."
As ever Blumenfeld is excited by exhibiting in Norway: "I am always thrilled to show here because the people really love art and aren't afraid to come into a gallery or museum. Nowhere else – and I have had shows all over the world – do people think of sacrificing other things for their love of sculpture. It's this attitude that is so refreshing and energizing for the artist.

"The relationships I have cultivated in Norway in this time, as I have grown in reputation, have been so important to me. Many of my most significant collectors are based here and have been supporting my development as a sculptor since that very first show. Now, after more than a quarter of a century of this love affair with Norway, you can imagine how deeply I appreciate this fantastic honour of having my work exhibited in the Oslo Town Hall."
Helaine Blumenfeld is recognized as one of the world's leading sculptors working in marble and bronze. The Financial Times in 2009 unequivocally advised its readers to invest in her sculptures, proclaiming them "the Henry Moores of the future." In a career spanning more than four decades, her work has been shown in over 70 exhibitions worldwide. She has completed more than 80 commissions and her sculptures have been sited in public, corporate and private settings throughout the UK, Europe and the US, ranging from the City of Coventry to the Lincoln Center in New York. For her work she has received extensive recognition. In 2000, she was made a Fellow of the Royal British Society of Sculptors and from 2004 until 2009 she was elected Vice-President. Blumenfeld is the first and only female winner of the prestigious International Sculpture Prize, Pietrasanta e la Versilia nel Mondo, 2007, which has also been won by Botero and Mitoraj. She was the recipient of the 2007 President's Award from Clare Hall College (University of Cambridge), and holds an Honorary Doctorate from Leicester University. In 2010, she was acknowledged as a Woman of Achievement by the UK-based organization, Women of the Year.
Blumenfeld's relationship with Erik Anfinsen began in the 1990s and emphasizes the crucial role Anfinsen Kunst continues to have in establishing an awareness of modern and contemporary art in Norway.
Anfinsen, in cooperation with the Norwegian Sculptors Association, opened in 1991 the first sculpture park attached to a private gallery. Galleri Roenland at Jevnaker with its 23 acres of property at Randsfjorden was most suitable as a sculpture park. Until 2006, the gallery organized exhibitions of monumental sculptures by Norwegian and international artists.
In 2007, Erik Anfinsen established Anfinsen Kunst A/S, and Blumenfeld's solo exhibition in the Town Hall represents the gallery's most significant effort to present a sculptor of international acclaim in Norway.
THE EXHIBITION
Sculptures in bronze, marble, terracotta and Crystal Clear, both single figures and groups of three, will lead the eye steadily to the climax of the show, Souls (1990), a unique cast of four movable bronze sculptures standing at over 2m tall, one of Blumenfeld's most iconic pieces.
Among the smaller pieces will be sculptures representing Blumenfeld's transition, in the last two years, towards a more intuitive way of working; one which seeks to preserve, in the finished work, the raw energy of her initial clay models. The remarkable results testify to the power of roughened surfaces, and the sculptor's command of form, to convey the sense of risk and emotional turmoil that the creator felt in this period. The impact of this way of working on Blumenfeld's pieces in marble has been equally marked: Homage (2010), a complex, continuously changing emotional landscape, far from being simply a scaled-up version of the initial model, is the outcome of the artist's interaction with her material in the moment of its creation.
Although Blumenfeld is best known for her work in bronze and marble, this exhibition will also feature three pieces in a new material, Crystal Clear, which has been developed to replicate the appearance of crystal glass but which is durable and weather resistant. Combining the ability of bronze to reproduce every nuance of line and texture with marble's capacity for transparency and translucency, it fully communicates the spirit of transformation and transcendence that is so central to Blumenfeld's work. "My sculptures appear mysterious, like condensed air," the artist observes.
The exhibition will be open from the 9th until the 24th of October, with a special Preview on the evening of the 8th of October.
All works are for sale.
Oslo Town Hall Gallery
Rådhuset
0037 Oslo
NORWAY
Free entry
Tuesday – Sunday: 12.00 – 17.00
Closed on Mondays
For further information about the exhibition or Blumenfeld's work please contact Erik Anfinsen at:
Anfinsen Kunst AS
Sundgaten 3
3510 Honefoss
NORWAY
Tel: +47 3214 0200
Email: [email protected]
Web: www.anfinsenkunst.no / www.helaineblumenfeld.com